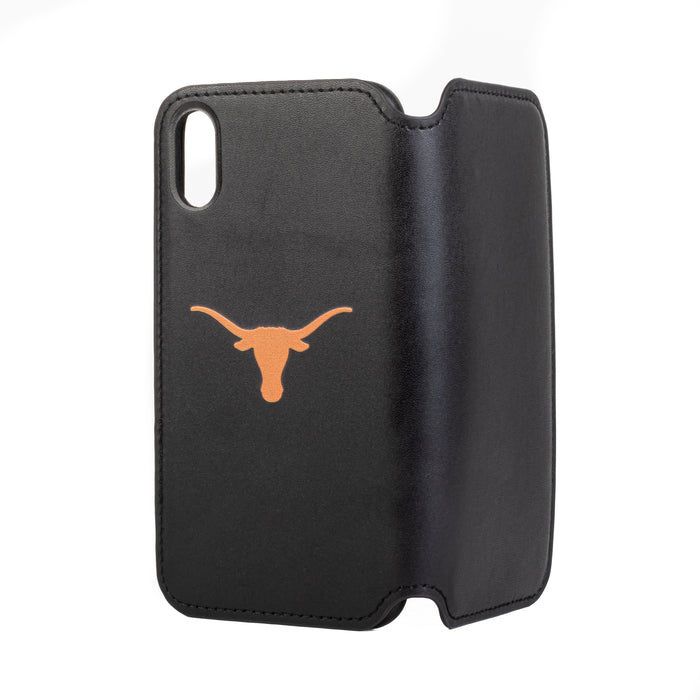 Texas Longhorns iPhone X Xs Wallet Phone Case And Card Holder
Are you a fan of the Texas Longhorns? Do you want to showcase your love and support for your team at all times? Looking for a flip folio cover for your iPhone X or XS?

Well, Now you can have both!
This University of Texas phone case is the perfect phone accessory for all Texas fans. It makes sure that you show your love and support for your team in the most practical way possible, because after all, who doesn't need a cover for their iPhone? So you're essentially killing two birds with one stone with this iPhone folio case!
This Apple phone case is perfect for iPhones X and XS and provides your iPhones with all-around protection. Say goodbye to cracked screens and dents on the side! It also features a soft microfiber lining on the inside that helps protect your iPhone against any accidental scratch marks. The flip phone case is made of genuine European leather that provides a luxurious look and feel.
This Apple iPhone Xs case comes in a flip folio design with an auto sleep-wake function. This means that your iPhone wakes up as you open the flip cover, and goes to sleep when you close it. This helps you save that precious battery life. It also comes with extra space so that you can store your cards, cash, and bills in this iPhone wallet folio case and don't have to carry around a bulky wallet anymore.