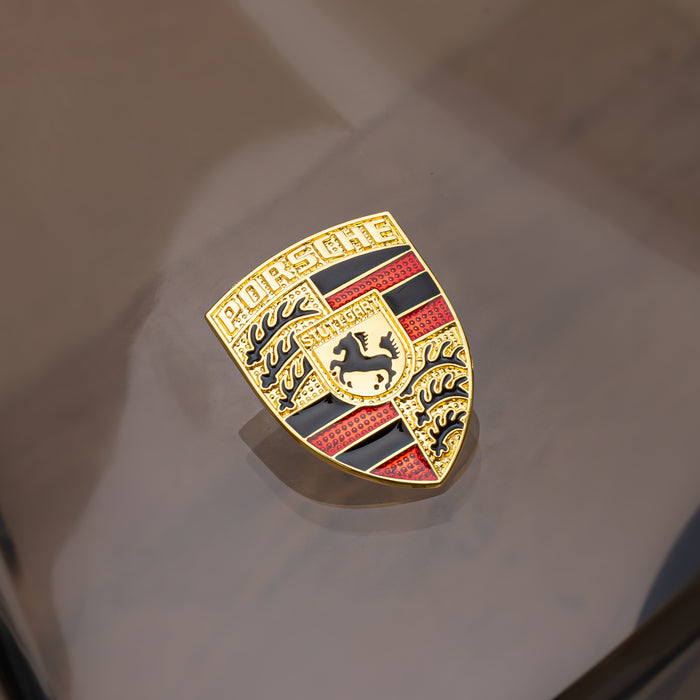 Porsche Gold Steering Wheel Emblem Crest - (40mm x 31mm)
Replace your corroded old Porsche Steering Wheel Crest with this brand new emblem from EliteAuto3K. You don't have to wait until your emblem fades; our collection of stylish and sleek Porsche compatible emblems will surely tempt you to give your existing Porsche an upgrade.
Unmistakable details: 
While creating a variety of beautiful colors we have made sure to keep the signature details intact. Our Porsche Steering Wheel Crests are created using specialized tools and are based on the original Crests. The logo is raised letters on a recessed background, while the powerful horse has pronounced joints and shoulders. 
Durable construction:
Don't waste your hard-earned money on buying inferior emblems that don't last. Instead, invest in EliteAuto3K heavy-duty car emblems for Porsche that will outlast even the roughest of use and stressors. This steering wheel badge for Porsche can take upon everything the day brings. Even after years of use, this badge emblem will stay rust-free and new-like; that's our promise!  
Product Features:
The perfect crest for your beast: A faded and worn out badge can give your car a neglected appearance. Don't let that happen. Replace your old Porsche Steering Wheel Emblem with our gleaming and shiny emblem and elevate the look of your car! 
Universal fit for all Porsche car models (old & new): Our Steering Wheel Emblem for Porsche is designed to fit most Porsche car models, making it a one size fits all. It can be conveniently mounted on the steering wheel of your car. 
Just like your Porsche, this car emblem is built to last: Made to be extremely durable, this emblem for Porsche badge will keep on looking like new for years to come. Never worry about premature chipping, fading or rusting! 
Tool-free installation: Not a handyman? Don't worry; our emblems are super simple to install. No drilling, no tools, no wiring needed. 
Perfect gift for a proud Porsche owner: Whether that lucky giftee is a Porsche owner, collector of all things Porsche or just a fan, our emblems for Porsche are the perfect gift for them. Surprise them Christmas, Birthdays, Father's Day or just because!