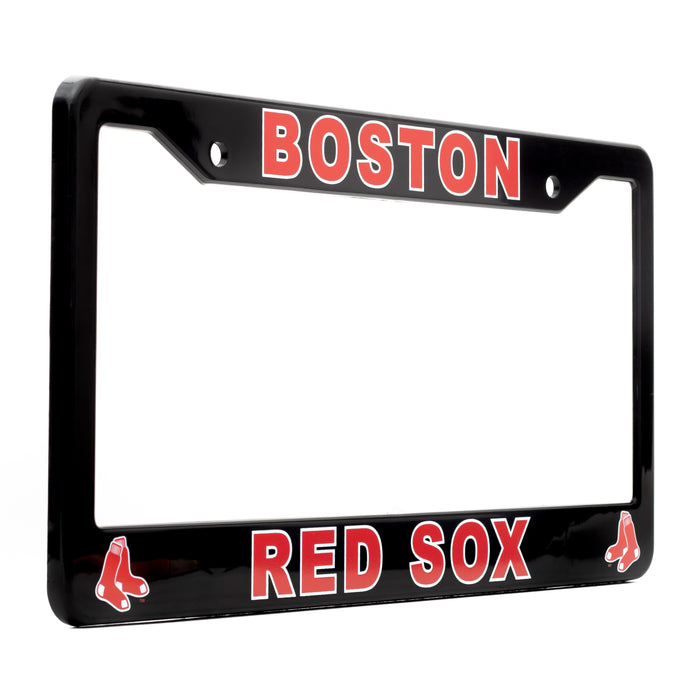 Boston Red Sox Black License Plate Frame Cover
Are you a fan of the Boston Red Sox baseball team? Do you want to show your support towards your team in a subtle yet fashionable manner? Are you looking for a replacement to your old, boring license plate frame and want to jazz up your car a bit?

Then this EliteAuto3K Boston Red Sox license plate frame is the thing for you!

This MLB license plate frame is the perfect way to showcase your support for your team. It has been constructed with the finest, and highest-quality ABS to ensure that it remains water and weather-resistant. This means that the logo and design won't wash away anytime it rains or anytime you wash your car.

The slim design of the frame will ensure that the actual license plate information is not hidden and that you don't get a ticket. The classic black color of the frame will also provide a good background to illuminate the red team colors.

This license plate will be the ideal Red Sox gift for the fan in your life. And you don't have to worry about it fitting the car as the frame measures 12.25" x 6.25" and is made to fit standard size license plates.

This bright and vivid Red Sox car accessory will be sure to catch everyone's attention!

- All frames come brand new in secure packaging.
- Slim design keeps all license plate information visible to avoid citations.
- Size dimensions: 12.25" x 6.25"
- Fits standard size license plates.
- Weather resistant to keep true team colors.
- In stock and ready to ship same day or 1 business day with tracking provided on every order.
- 6 month free replacement warranty included.